Oiling a bud vase / hollow vessel.
Author: David Lim Date Posted:30 June 2016
---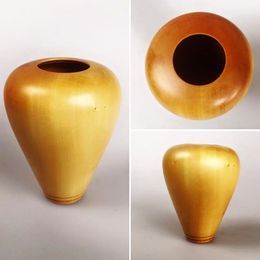 I am just oiling this bud vase / hollow vessel and I am using OrganOil danish oil. I have sanded it to 1200 grit on the lathe so its now time to oil it.
Oiling is easy. I have decanted the oil into a smaller bottle like this.
I use paper towels rather than cloth.
You can paint on the oil or just wipe it on. Its very straght forward to use.
I tap out the saw dust, then pour in the danish oil into the vase.
Once it is done, you just wipe off with the towel.
I give it a blast of compressed air and another wipe in another 3 or 4 hour.
Oiling you timber project is as easy as that.
OrganOil Danish oil is my choice of finish.
---
Leave a comment