Gorilla 236ml 8oz PVA Wood Glue
Code: 052427410061
$6.00
RRP $9.95
SAVE $3.95 (40%)
In Stock
Notify me when back in stock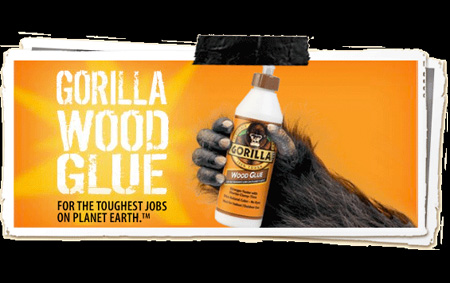 New Gorilla™ Wood Glue, bonds stronger, faster for wood-to-wood applications. It's hard working and long lasting. Your wood glue just got a lot tougher! What's more, our special formula was created for a variety of wood surfaces, is water-resistant, and has no dyes for a better looking bond line.

Gorilla Wood Glue is what woodworkers, carpenters and hobbyists have been waiting to use, for their toughest jobs on planet Earth™.
Gorilla Wood Glue is sure to be a favorite. Here's why:

GORILLA STRENGTH DELIVERED, AGAIN– Gorilla Wood Glue is a leader in strength, providing an unmatched confidence level for success.

COMPLETE PROJECTS FASTER– requires only 20-30 minutes of clamp time, and is fully cured in 24 hours.

USE INDOORS OR OUTDOORS– passes ANSI/HPVA Type II water resistance.

VERSATILE– good for use on hardwoods, softwoods, and wood composites.

DRIES NATURAL COLOR– there are no added dyes. Only natural wood fibers are used for a natural looking bond line. Say goodbye to the "orange after-glow" from yellow glues.

EASY TO USE – it's a non-toxic, water-based, solvent free polyvinyl acetate (PVA). FDA approved for indirect food contact. Easy clean up with water.
Directions
1. Application.
For best results, it is essential that the wood surfaces are prepared prior to application of glue. For laminating, the surfaces should be thickness planed smooth, leaving the board surface free from machine marks, tear out and snipes. Also, be careful to avoid burnishing and end snipes.
Click here for more tips on Surface Preparation

Just how much Gorilla™ Wood Glue to apply depends on many factors. In general, apply a generous amount of glue on one of the surfaces. On hard-to-glue woods, apply the glue on both surfaces. Rub together with the other surface to distribute the glue evenly on both surfaces. Enough glue should be applied so that a fine bead of glue squeeze-out will occur when clamping.
Coverage– 1 gallon of Gorilla Wood Glue will cover about 200 square feet. 1 fluid ounce will cover approximately 1.56 square feet.
Click here for more Application Tips
2. Clamping
The technique and type of clamp to be used is determined by many factors: the specific type of joint, type of stock or lumber, moisture content of stock, room temperature, assembly time, and surface quality. In general, apply enough pressure that will cause a fine bead of glue to squeeze-out when the proper pressure is applied.
Clamping Time (amount of time pressure needs to remain applied) – 20-30 minutes for room temperature applications.
Working Time (amount of time before joint can be handled without stress) – 3-4 hours.
Cure Time (amount of time for glue to reach total bonding strength) – 24 hours.
3. Clean-Up
Gorilla Wood Glue is water-soluble until dry.
Clean-up while glue is wet– Use a clean damp cloth to wipe off excess glue. Make as many passes as needed with the clean area of the cloth to remove all the glue. When areas have completely dried, sand as needed. Wash hands, skin and damp cloths in soap and warm water, then rinse.
Clean-up when glue has dried– Use a sharp putty knife, razor, or sharp scrapper to shave hardened glue from surface, then sand as needed. Soak hands and skin in soap and warm water, wash then rinse.
Cleaning the glue bottle tip– Use a clean damp cloth to wipe off excess glue after closing. If tip becomes clogged with dry glue, remove the cap and push the clog backwards with a toothpick then rinse cap with warm water.
To remove Gorilla Wood Glue from hands, wash with warm soap and water.
(052427410061)
| | |
| --- | --- |
| SKU | 052427410061 |
| Barcode # | 052427410061 |
| Brand | Gorilla Glue |
| Shipping Weight | 0.3200kg |
Be The First To Review This Product!
Help other Timberbit users shop smarter by writing reviews for products you have purchased.
---
Others Also Bought
---
More From This Category