INCRA Solid Aluminium MAGNALOCK (MLP1619-AL)
Code: MLP1619-AL
Notify me when back in stock
INCRA Solid Aluminium MAGNALOCK™ RT Plates
INCRA's 3/8" Solid Aluminum Mounting Plates are the new standard for achieving perfect cutting results at your router table. Precision-machined aircraft grade aluminum and bullet proof hard anodized plating translate to easy glide for your workpiece. While the 3/8" thickness is robust enough for the heaviest of routers on the market today. Designed for and included with every INCRA Router Table Top, these plates will fit the standard 9-1/4" x 11-3/4" recess in most other router table tops as well.
Ten fine thread plate-leveling screws provide extreme control in leveling the plate to your table and rock solid support at any position around the plate. A simple quarter turn of the corner mounted Cam-Lock fastener securely locks the plate in the router table's recess.
All of INCRA's Aluminum Mounting Plates feature the exclusive MagnaLOCK™ magnetic throat plate system. Changing any of the included throat plates is a snap with the MagnaLOCK™ System. Just drop in the selected plate. The high energy, rare-earth magnets hold the plate secure and perfectly flush every time.
MagnaLOCK™'s instant, tool-free ring changes and perfectly flush fit for the rings make it simply the most convenient and best-performing ring system available. All of our mounting plates include three laser-cut steel rings with 1", 2-1/8" and 3-5/8" openings, and many more ring sizes are available as accessories.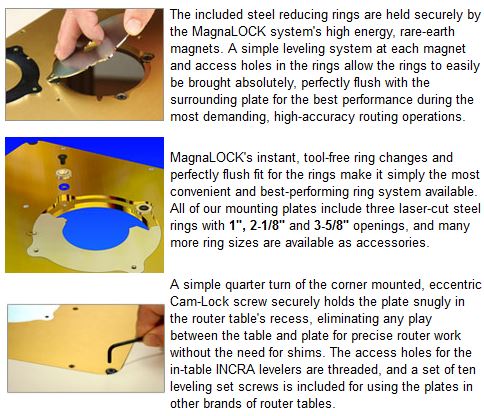 Please check the below table for compatibility: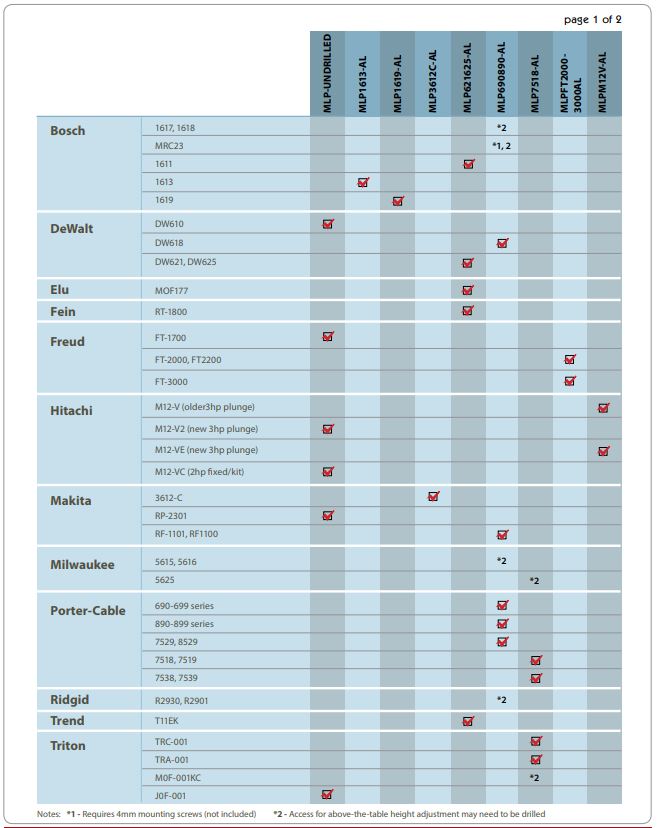 INCRA Aluminum MagnaLOCK Plate Selection Chart
Access for above-table height adjusters may need to be drilled by user - footnotes in
chart cover known routers.
Many plate models accommodate several routers, so -

Pre-drilled plates may have more holes than needed for your router                   
Mounting screws are included but may not match every compatible router                   

For routers not listed, undrilled plates (MLP-UNDRILLED) will accommodate routers that
have their mounting fasteners fully outside a 2-1/16" (53mm) radius from the centerline
of the router's collet
Router handles are normally oriented diagonally on pre-drilled plates
Handles that protrude more than 1/2" beyond the plate's edge may need to be removed
to fit router through table opening
(75229)
Be The First To Review This Product!
Help other Timberbits users shop smarter by writing reviews for products you have purchased.
---
Others Also Bought
---
More From This Category