Today I had a session in David Lim's workshop out at Yennora. He has some very nice wood working equipment.
David was very generous with his time, equipment and materials as well as showing me how to use his equipment. With his help I was able to get a product with a quality I did not think possible. Case of a young dog teaching an old dog new tricks. Most enjoyable session.
The plane when assembled looks like…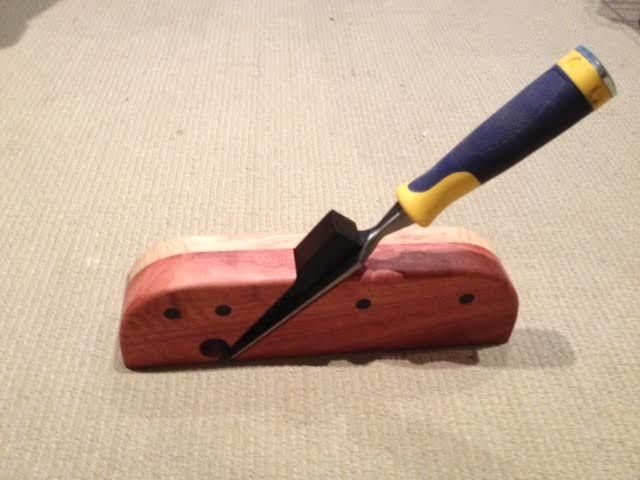 When disassembled it looks like…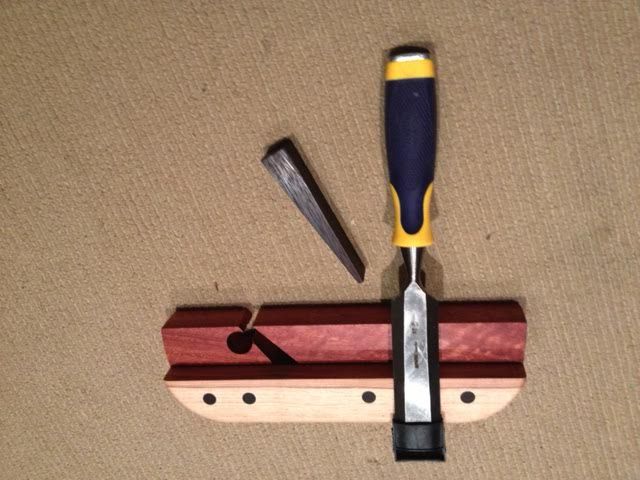 The basic geometry is..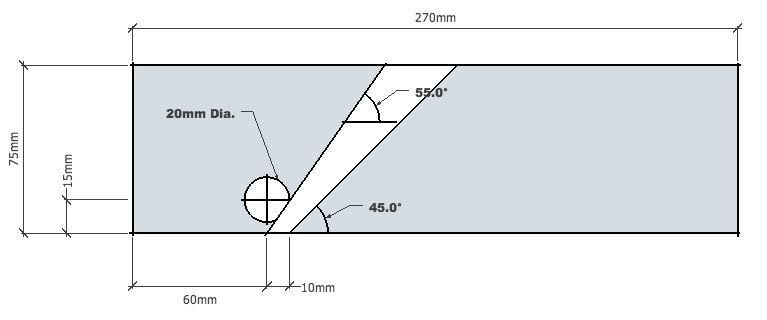 The rounding is not show on above sketch as it was used to describe the overall size as well as the slot and relief hole geometry.
The timbers are:
main body of the plane: Jarrah (Eucalyptus marginata)
backing piece: Native Olive (Doral)- notelaea ligustrina
wedge: Wenge (Millettia laurentii)
dowels: Wenge (Millettia laurentii)
The chisel is a 32mm Irwin Marples (1¼")
Finish: Organoil, Danish Oil (one coat)
Couldn't find a 20mm drill bit so used a 19mm Forstner bit for the relief hole.
The secret to getting the backing piece attached to the main body was to firstly glue a sacrificial piece on the opposite side and cut the 45-55º slot lines and remove slot with chisel. Very clean operation. Then once the slot was cut the backing piece was attached with glue and dowels. I was initially going to use screws but David Lim thankfully talked me into using a sacrificial board.
The sanding of the timber pieces using a Linisher is what took most of the time. Cannot imagine how long it would take doing it by hand plane and sanding blocks. The Linisher was great! The sanding was done using the following grit sequence: 80? 120? 220? 320. The final grit gave a glassy appearance on all the hard woods especially the Native Olive which was mirror like.
Lining up the chisel for a shaving operation was a bit tricky and fiddly. After a lot of attempts one learned about the tapping of wedge and chisel in the right sequence and lightness of hand. I am a bit rough with tools so had to subdue my natural instincts. You need a Zen moment to get it right.
The relief hole had to be continually cleaned out as it kept blocking. Maybe a bigger throat is needed just above the chisel. Will need to ruminate.
Oh yeah the equipment used:
Table saw for main timber component and removal of sacrificial piece
Electric Chop Saw for trimming main body components
Band saw for the rounding of main body/support piece and initial cut of the wedge
Bench drill for the relief hole and dowel holes
Block plane for chamfering square dowels to near round condition
Dowel Jig for final trim of dowels (finally used one of our Men's Shed items) which worked very well. Nice jig.
Hand electric drill for spinning dowels through dowel jig
Jointer for main timber components
Thicknesser for sizing main timber components
Linisher for surface smoothing/finishing and final trimming of wedge
300mm ruler for set out
Square for checking right angles
Cotton Rag for application of Danish oil
Folded sanding sheets: hand smoothing of rounded corners
Hand for patting myself on the back
Regards
Rick
PS David gave me a proper carpenters apron so now I can call myself a woodworker.