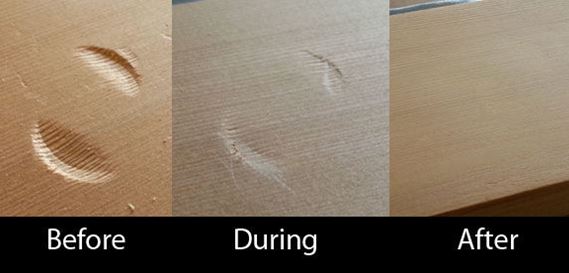 Timber is made from a series of fibres so when you create a dent you are crushing these fibres. As long as the fibres aren't severed you may be able to fix it. We want the wood fibres to spread out so the dent goes away.
Equipment needed
Household Iron
Clean Soft Cleaning Cloth
Spray bottle filled with water
Step 1
Spray a little bit of water on the area. As we all know moisture expands with moisture and it will expand quickly when it's hot moisture.
Step 2
Soak the cleaning cloth in water as well and place over the area. You can find the amount of water you have used may be enough to cause the expansion needed to bring the dent out.
Step 3
Make sure you have turned the iron on so when it's hot, start applying to the damp cloth. Be very careful though as too much heat and moisture will cause the timber to warp especially if it's thin timber. May be prudent to try on a test piece first.
Step 4
Once you are happy with the result then you may need to sand the surface smooth or not depending on the result.
This process works on small dents but not large ones where the fibres have been severed. You may need to employ other patching techniques to hide these ones such as fillers or small pieces of timber glued in place.