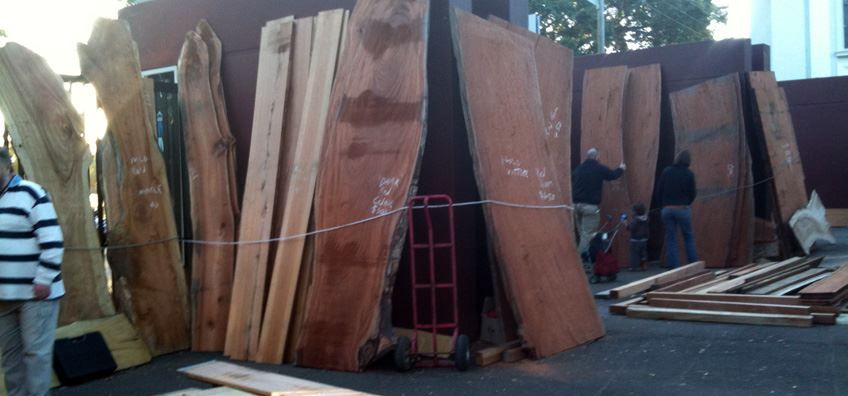 This year's Timber and working with wood show - Sydney was on over the weekend. I attended the show again as a customer with a pocket full of cash, rather than as a exhibitor. I have been thinking long and hard about whether to exhibit or not. I will probably try to participate next year when I am hopefully a bit more organised and have a bit more help.
Purchased a few things like a replacement trimmer that died on Friday night, lucky the show was on - I picked up a bargain offered at the show.
Caught up with Malcolm, Rob and Greg from Boutique Timbers. They had a fantastic range of big timber slabs which included Red Cedar, Mackay Cedar, Silky Oak, Red Gum and many, many more.
What really got my attention was a few Mango slabs he had leaning up against the wall. It was a beautiful large slab full of fiddleback figure throughout the slab. I was very attractively priced and I would of purchased the slab - however, the last few words from the mouth of my wife as I left the house stopped me from lightening my wallet. "Bring home any more timber and I will leave you!" . She drew the line when she found me racking up timber in the bed room, my defence was that the shed was full but she didn't agree.
It was a great half day on Friday and Saturday for me. Its always a pleasure going to the Working with wood show.