Description
Product Information
Vicmarc V00121 Bowl Jaw Extension Bush Set
The Bowl Jaw Extension Bush Set is to be used in conjunction with the existing Bowl Jaw Grips. It allows for an extended pickup distance as illustrated above. The Extension Set includes eight (8) 15mm Extension Bushes, eight (8) 35mm Extensions Bushes and all screws necessary.
This set allows an extension of 15mm, 35mm and 50mm (15 & 35mm together) from the face of the jaw. The Bowl Jaw Extension Bush Set will suit all Bowl Jaw sizes (Bowl Jaws sold separately).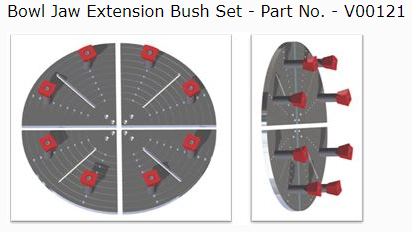 No FREE ship, additional shipping charge applies for international orders. Please contact us on 1800 388 833 for a shipping quote.