Description
Product Information
Hamlet Double Ended Bowl Gouges
Double ended bowl gouges made for use with the Multi-Handle system - one end a standard bowl gouge, and the other a masterflute bowl gouge.
Made of quality M2 high speed steel.
Made in Sheffield, England.
Please note: sizing of bowl gouges is historically based on the flute width. However, as bowl gouges are now made from round bar stock the old measurements don't make as much sense in determining it's size.
American terminiology has recently changed their sizing approach of using the bar stock to define the gouge size. Although UK terminiology continues to use the flute width. Please use the table below as a guide:
​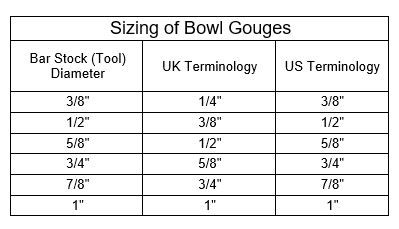 The 1/2" Hamlet Bowl gouges have a 1/2" Flute and uses a 5/8" bar stock. That means the 1/2" bowl gouges will match a 5/8" Handles (MH58)
The 3/8" Hamlet Bowl gouges have a 3/8" Flute and uses a 1/2" bar stock. That means the 3/8" bowl gouges will match a 1/2" Handle (MH12)