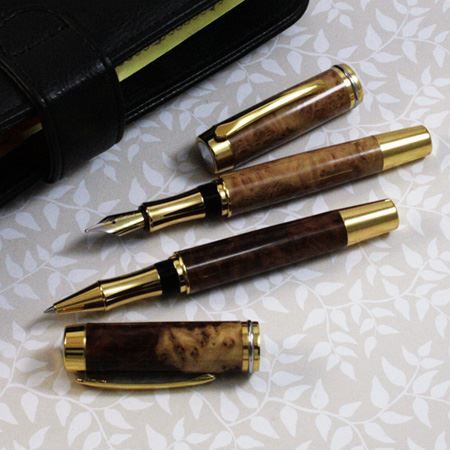 We have introduced the SN (Senior) Gent Kits into our range.
With the popularity of the JR Gent pen kits, we have been asked by numerous pen turners to design a pen that looks similar to the JR Gents but more suited for the larger stronger men who generally has much larger hands.
These pen kits are available in 2 different platings - 24ct gold and chrome, with a fountain pen or rollerball option.
The Rollerball version features a Schmidt West German refill and the fountain pen featuring a Iridium German Nib.
To keep cost down, we have have decided not to include a fountain pen pump converter in the kits.
Yes, to keep costs down for these kits they were made in Main Land China.
Large pens and large brass tubes will also mean you will require large drill bits.
For these pens, you will require 14.5mm or 37/64" and 11.5mm or 29/64" sized drill bit.