Vicmarc V00284-5 VM120 M45 Chuck (Type:No Jaws)
Please note: This chuck is the standard VM120 without the Jaws and Wood Screw. For insert type chuck, an appropriate insert to fit your lathe is required. Comes with a FREE insert to fit your lathe. Unusual spindle sizes may take a week or two before we can get you the insert to fit your lathe.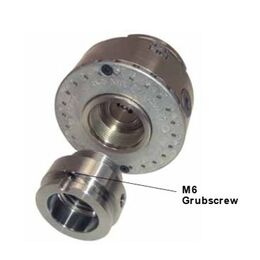 Vicmarc VM 120/150 Chuck Inserts
Domestic Shipping - $18.00
Warehouse Collection - FREE
No charges when collecting from our warehouse located at 6/8 Wilmette Pl, Mona Vale NSW 2103. Timberbits will call to confirm when the order is ready. Collect between Monday - Friday 10 am-5 pm. Looking for shipping? Please check your cart and remove any dangerous goods as these are not eligible for shipping.
Product Video