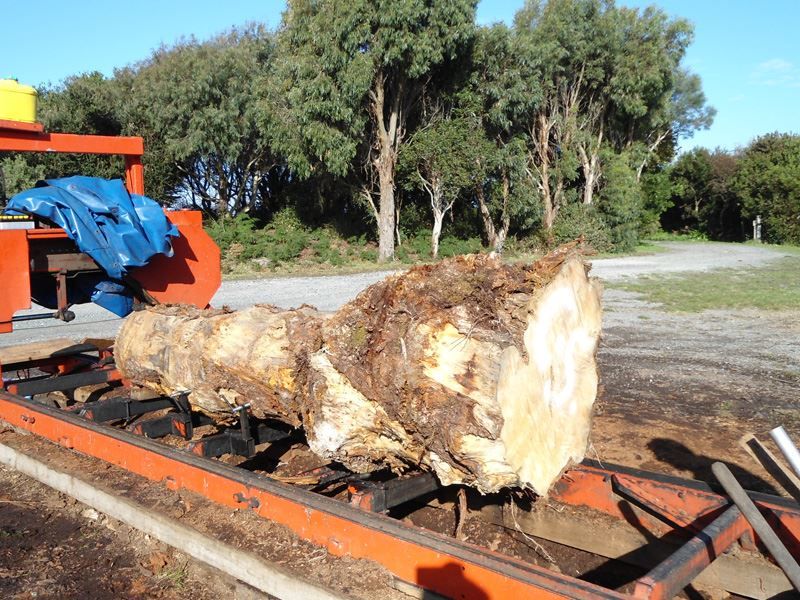 Cutting up burl logs is like scratching a lottery ticket. You really do not know what you will find until you start scratching/cutting.
In the earlier post, you saw some of the Huon logs that I purchased and now its time to start cutting them.
I use to buy all the off cuts from a veneer cutter who would break down these logs to try to get veneer flitches off them. Veneer is the highest form of return you can get from breaking down a log.
I use to get all my really highly figured pen blanks from the waste of this process. I now purchase the logs and try to cut veneer flitches from them.
This log is a really cranky Huon Pine log. I was a bit suspect of it when I first saw it. I was advised by an expert of Huon Pine, that it was going to be very suitable for veneer flitches and that it was a good buy.
Putting my money where my mouth is, I purchased the log to see what I could get.
Once we got it onto the bandsaw mill, the first step is to square it and get the heart shake in the right direction. Once we got it in the right direction, we had to trim it down with a chain saw so that the arms of the bandsaw mill would fit through it.
The first few cuts was an insight to how it looked underneath the bark.
This log is going to be a beauty! So much birds eye figure.