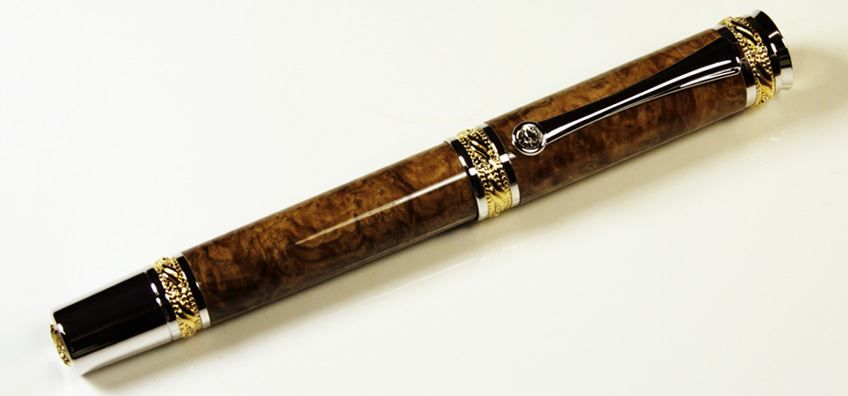 Burl Brown Mallee Majestic Rollerball.
This desert timber is hard and dense, beautiful to turn with a nice pleasant Australian outback smell. After sanding it to 1,200 grit the timber takes on a really nice glow. This timber is magical - the grain and birds eye pattern really makes it something special.
The Majestic pen kits is a very large and heavy kit. It is not meant to be a pen that you carry around in your pocket. A lot of people make this kit as a pen to mark a special occasion. Real Estate Agents and Solicitor use it regularly as a gift presented to the new home owner to sign their title deed or mortgages. After the certificates or mortgages are signed, the pen is then presented as a gift to mark the occasion. The pen then sits on the table or mantle piece to be used for special occasions.
The pen blank was sanded down to 1200 grit sandpaper, then 22 coats of CA was then applied as a finish and to stabilise the timber. After the coats it was then further sanded from 800 grit micromesh to 12,000 grit micro mesh before a final buff with Brasso. A thin layer of automotive wax was applied to help protect the CA finish.